New York City FC: 3 things NYCFC's new stadium should have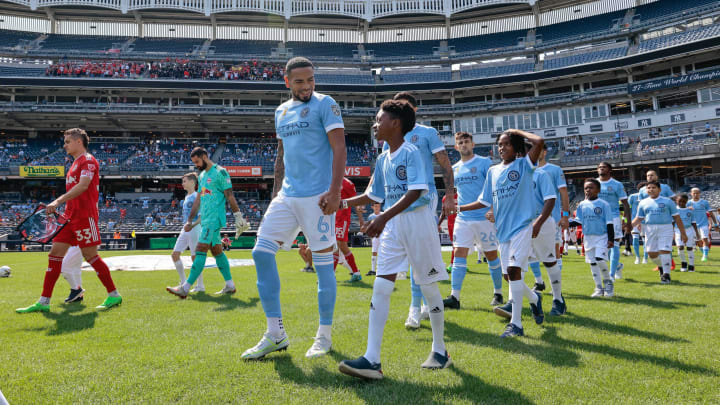 Sep 17, 2022; New York, New York, USA; New York City FC defender Alexander Callens (6) walks on to / Vincent Carchietta-USA TODAY Sports
New York City FC, Mayor Eric Adams, and more announced in November that the club is finally getting a stadium.  The future home of the Pigeons will be in Queens, and hopefully will be completed by 2027.
The announcement was welcomed by fans, for they have been waiting for years to hear this joyous news.  And for years, fans have been dreaming and wondering what the new stadium will look like.  In fact, just a few years ago, a similar piece on what the stadium should have was put out on MLS Multiplex.
As such, with the announcement, and since the last piece is now outdated, it is time to refresh.  There are so many things the stadium could have, from sections, special areas, and even the food.  The design can either blend in with the area, or stand out, and there is no doubt many fans want particular statues too. 
There is so much to choose from, but for now, just a few things will be discussed.  So, here are three things the New York City FC stadium should have. 
Fresh Pizza In New York City / Robert Nickelsberg/GettyImages
3. The New York City FC stadium needs a pizza place
In 2020, it was thought that it would be cool to have a brunch spot in the future New York City FC stadium.  Now, with the expectation that most matches will happen in the evening due to the Apple TV deal, that might not be the best move – although it would be great if fans could get bagels in a New York stadium.
Still, one idea for a food place or stand is to have a section that sells true New York pizza.  In a sense, it would be a pizza place. It would be similar to a local pizza place from the city, and should not be a chain, for most of the chains do not sell real New York pizza. 
It would be incredible if NYCFC could make a deal with a popular pizza joint from Queens, and give them the stand or small section.  They would always have a minimum of 17 days where they can sell their pizza outside of their restaurant, and then possibly other matches, concerts, and events throughout the year. 
The stand or section would sell a variety of pizzas, from Traditional New York style, the Long Island based Grandma, and the popular Sicilian style.  There would be a range of toppings available, including pineapple for the crazies who like fruit on their pizza.  Other items like calzones and garlic knots would be sold too.  Plus, fans could order a whole pie, or just a slice.
This can be a staple in the new stadium, and pizza screams New York.  There is nothing better than a slice of pizza from a pizza joint or New York Italian restaurant.  It would also show visiting fans from other parts of the country that New York City FC is true to New York, and believes in the pizza from the tristate area.