New York City FC: 3 things NYCFC's new stadium should have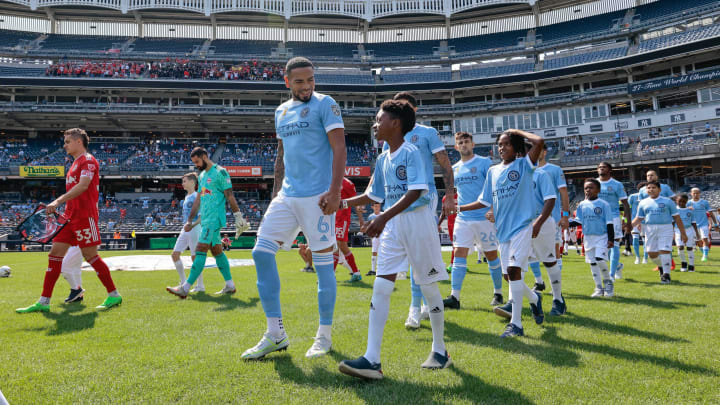 Sep 17, 2022; New York, New York, USA; New York City FC defender Alexander Callens (6) walks on to / Vincent Carchietta-USA TODAY Sports
1. New York City FC must honor the 2021 champions
As mentioned earlier, New York City FC should build a statue of Castellanos, especially since he helped lead the team to a MLS Cup championship.  More importantly, the new stadium should have an area to recognize the 2021 champions.  Whether it is a wall or an entire section, this is something the Pigeons must have.
For starters, a list and information on every player from 2021 should be accessible to fans, whether via a plaque, on a wall, or somewhere else.  Then, the area should show the starting XI and the subs.  It would also be incredible if there was a TV that showed the highlights from the glorious day in Portland. 
The team should put up photos too.  They should include the traveling fans and the march to the stadium, the fans in the stadium, the players before the game, the actual game itself, the penalty kicks, the win, and the celebrations during and after by both the team and the supporters.
In addition, NYCFC should honor Ronny Deila in the 2021 Champions area, for the former head coach led the team to the MLS promised land.  It should include a summary of what he did with the club, but also a thank you.  He surely deserves it, and like the players, he was a large part of the turnaround in 2021.
Most importantly, there should be a replica of the MLS Cup trophy.  This should be one where fans can pose with and take pictures, and NYCFC would not have to worry about the trophy itself. 
However, if the club would like to have the actual trophy behind a glass case at the stadium, then this area would be the perfect place for it.  Understandably, they might want to have it at the training complex, but the option is available. 
When all is said and done, there should be an area or wall dedicated to the 2021 Champions.  The run the team went on to change their fortunes is truly a remarkable moment in the history of New York City FC.