New York City FC: 3 things NYCFC's new stadium should have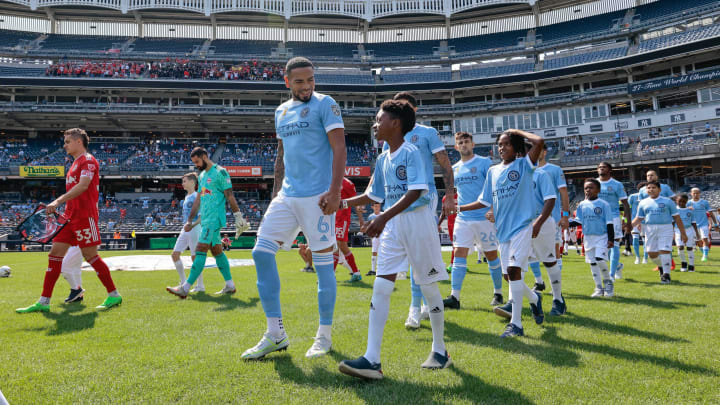 Sep 17, 2022; New York, New York, USA; New York City FC defender Alexander Callens (6) walks on to / Vincent Carchietta-USA TODAY Sports
2. New York City FC needs a Valentín Castellanos statue
This past summer, the beloved Valentín Castellanos finally made his jump to Europe.  The New York City FC superstar had left his mark, both with the club and in Major League Soccer.  His performances on the pitch, and then the way he acted off the pitch, highlights he is a well-rounded player and person.  Based on everything, the Argentine deserves a statue when the new stadium is built.
When NYCFC made their 2021 MLS Cup run, Castellanos was a major part to their success down the line.  The winger turned striker not only won the Golden Boot that year after his goalscoring resurgence at the end of the season, but he also scored in every playoff game that he played in. 
Castellanos scored 59 goals in 134 overall appearances, and his best season was in 2021.  Undoubtedly, if he did not go on loan to Girona FC, 2022 would have been another fantastic season.  Before he left, he scored 13 goals in the MLS regular season, and 17 overall. 
As his time with NYCFC went on, Castellanos increased his defensive work rate.  He went from waiting for others to get the ball to him, to a player that could track back and try to retrieve the ball from the opposition.  And even when he did not score, he was consistently a threat.
Above all, the Argentine was a fan favorite, and beloved by everyone involved with the club.  He illuminated his love for NYCFC both on and off the pitch, and always interacted with the fans.  He would stay after to sign posters, shirts, and more, and was willing to take photos with fans as well.  Not only did he love to play, but he loved this city with all of his heart. 
Therefore, when the Pigeons finally open their stadium, they should have a statue of Castellanos.  It is rightfully deserved, for not only did he deliver the MLS Cup to New York City, but he is beloved by fans, and seen as a legend.  He is both a great player and person, and should be recognized by the club.
Of course, there is another player who deserves a statue as well: Maxi Moralez.  He has solidified himself into a legend too, and continues to perform at a high level.  At this time though, he is still with the club, despite the fact he will be leaving, which is why the discussion of a statue is about Castellanos.
It would be silly if there is nothing at the stadium to honor the star player.  A statue should be built in his honor, and should be a major landmark of the New York City FC stadium.